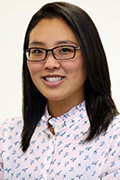 Sharon Baik, PhD
Education:
2018 – PhD, San Diego State University/UC San Diego Joint Doctoral Program in Clinical Psychology, Clinical Psychology
2015 – MS, San Diego State University, Clinical Psychology
Research Interests:
My primary research interests are focused on developing and evaluating interventions to improve quality of life and psychosocial functioning among cancer patients and survivors. I am particularly interested in working with medically underserved communities and in efforts to address disparities in cancer care and outcomes. Currently, I work with Drs. Betina Yanez and David Cella on evaluating evidence-based interventions for oncology patients that utilize technology platforms and aim to reduce symptom burden, promote health-related quality of life, and improve treatment adherence.